Saturday September 23rd, 2000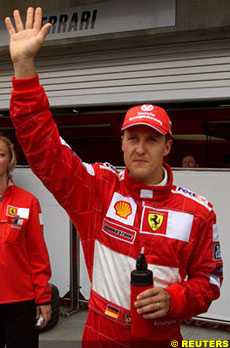 Schumacher takes Indy pole
Michael Schumacher and Rubens Barrichello played the roll of perfect team-mates this afternoon as they towed each other along the long Indianapolis straight in a bid to improve each other's times. It worked for Schumacher, his qualifying run behind Barrichello down the straight shaved over a tenth of a second off his previous best lap ensuring him his 30th career pole and his seventh of the season. Barrichello's hopes of a similar lap with the aid of Schumacher were thwarted by the fact that he was running more downforce on his car than his team-mate and could not get close enough to him for a worthwhile tow as they got to the straight and ended up fourth fastest.
McLaren men split the Ferraris
After seeing the effectiveness of Michael Schumacher's tow from Barrichello, the McLaren team used the same team tactics to get David Coulthard ahead of Rubens Barrichello and also ahead of his own team-mate Hakkinen who gave him the tow, but then had run out of laps and could not benefit from the same service. Hakkinen, starting from third place on the grid was philosophical about his own contribution towards losing his place on the front row. 'With the line of bricks just ahead of the front row, it might be better to start from the second row with a bit more speed over the start line,' said Mika referring to the symbolic yard of bricks, a leftover from the once all brick track surface that gave the track the nickname of the 'Brickyard.'
Trulli heads row three for Jordan
His Jordan fitted with a fresh engine after his morning problems, Jarno Trulli set the fifth fastest time of the session to head the third row of the grid, the Italian saying afterwards that his time was about the best he was going to get out of his car after a problem free session. Heinz-Harald Frentzen was starting back on the fourth row of the grid, his third run spoiled by a slide over the grass. 'It was very slippery around the infield and the time I did was about the best I was going to get,' said Frentzen who was only 600ths of a second behind his team-mate.
Button slips into sixth
Jenson Button found yellow flags on his third run and pushed too hard on his fourth he said, but still managed to take the sixth fastest time of the session and a place on the third row for Williams. Ralf Schumacher was back in tenth place, the German still not happy with the balance of his Williams and like his team-mate had his third run slowed by yellow flags. He had nobody to blame for not bettering his time on his fourth run when he spun off.
Villeneuve shares row four with Frentzen
'I had a spin on my best run which cost me the chance of a probable top 6 place,' said Jacques Villeneuve who ended up eighth alongside Frentzen for the BAR team. Ricardo Zonta didn't get the car as he hoped it would be for qualifying and was unable to better 12th. In brief'. Jean Alesi's miserable weekend continued. After struggling to get a time with his ill handling Prost his agony was cut short when the engine blew up due to a pneumatic valve system failure leaving him in 20th place. Heidfeld was 16th, saying that was as good as it gets. Fisichella's hopes of a good grid position faded when his car suffered understeer and general lack of grip leaving him in 15th place on the grid, four places behind his team-mate Wurz. It was a bad day for Jaguar, Eddie Irvine unable to better 17th after a spin during qualifying and Herbert 19th. Diniz did well to take 9th spot for Sauber, Salo complaining his car did not handle as well as he had hoped on low fuel and he had yellow flags, which prevented him bettering14th on the grid.
Pos  Driver         Team                 Times                 
 1.  M.Schumacher   Ferrari              1:14.266  203.350 km/h
 2.  Coulthard      McLaren Mercedes     1:14.392   +  0.126
 3.  Hakkinen       McLaren Mercedes     1:14.428   +  0.162
 4.  Barrichello    Ferrari              1:14.600   +  0.334
 5.  Trulli         Jordan Mugen-Honda   1:15.006   +  0.740
 6.  Button         Williams BMW         1:15.017   +  0.751
 7.  Frentzen       Jordan Mugen-Honda   1:15.067   +  0.801
 8.  Villeneuve     BAR Honda            1:15.317   +  1.051
 9.  Diniz          Sauber Petronas      1:15.418   +  1.152
10.  R.Schumacher   Williams BMW         1:15.484   +  1.218
11.  Wurz           Benetton Playlife    1:15.762   +  1.496
12.  Zonta          BAR Honda            1:15.784   +  1.518
13.  Verstappen     Arrows Supertec      1:15.808   +  1.542
14.  Salo           Sauber Petronas      1:15.881   +  1.615
15.  Fisichella     Benetton Playlife    1:15.907   +  1.641
16.  Heidfeld       Prost Peugeot        1:16.060   +  1.794
17.  Irvine         Jaguar Cosworth      1:16.098   +  1.832
18.  de la Rosa     Arrows Supertec      1:16.143   +  1.877
19.  Herbert        Jaguar Cosworth      1:16.225   +  1.959
20.  Alesi          Prost Peugeot        1:16.471   +  2.205
21.  Mazzacane      Minardi Fondmetal    1:16.809   +  2.543
22.  Gene           Minardi Fondmetal    1:17.161   +  2.895


All timing unofficial

---