Sunday April 1st, 2001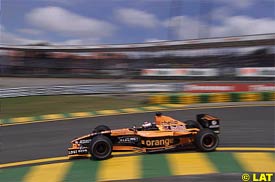 Arrows driver Jos Verstappen admitted he was sorry after crashing into the back of Juan Pablo Montoya's Williams, eliminating both cars from the Brazilian Grand Prix.
Montoya, who was leading the race after an impressive overtaking manoeuver over Michael Schumacher, had just lapped Verstappen when the Dutchman left his braking too late and crashed his Arrows heavily into the back of the BMW-Williams.
Verstappen said he was very sorry after the race.
"I saw that I was given a blue flag and I saw Montoya coming so I went to the left to let him past," explained Verstappen. "Once he came past I moved back over onto the racing line and he then braked very early.
"Iím very sorry for him because I heard he was leading the race, but I couldnít avoid him, I hit him and that was it."
Meanwhile, Verstappen's teammate Enrique Bernoldi endured yet another disappointing race at his home Grand Prix. The Brazilian, who had outqualified Verstappen, was forced to retire with mechanical problems, but he was happy with his progress.
"The lap before I came in I saw that my hydraulic temperatures were going up," said Bernoldi. "The team called me in and on my in-lap I couldn't select any gears.
"It's a shame not to finish again but until this point I have had a positive weekend and I'm happy to be making progress."
---