Sunday April 1st, 2001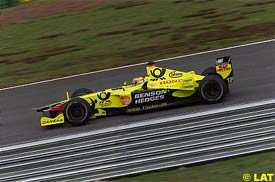 The Jordan team drivers endured mixed fortunes during Sunday's Brazilian Grand Prix, and the British outfit was disappointed to leave with only two points after a promising race.
Italian Jarno Trulli finished in fifth position, scoring his first points of the season, after losing two spots during the final laps of the race as a consequence of an instable rear end of his car.
Trulli finished behind Frenchman Olivier Panis at the wheel of the Honda-powered BAR, direct rivals of Jordan, who also use the Japanese engines.
"I made a very good start," said Trulli. "I was in fourth place and feeling good. We had decided on a one-stop strategy and, about 15 laps before I was due to come in, I began to have problems with the clutch.
"I was not as quick as before and I was struggling with the rear tyres. Unfortunately, the pit stop was one lap before the rain came, so I had to come in again for intermediate tyres and that cost me a position.
"The track started to dry in places towards the end and I could feel the car oversteering quite a lot. So, it was a struggle to reach the finish."
Teammate Heinz-Harald Frentzen was disappointed after an electrical problem forced him out of the race when he was running in third place.
"The strategy was perfect," said Frentzen. "We put on intermediate tyres when the rain came and, although the car was difficult to drive when the track was very wet, these tyres were the right choice.
"I was in a comfortable third place when the engine developed a misfire caused by an electrical problem. Then the car just stopped. A disappointing result, obviously, but the Jordan-Honda's potential is very clear."
---