Sunday April 1st, 2001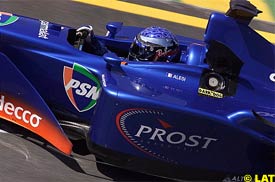 Veteran Frenchman Jean Alesi was disappointed after finishing outside the points at the Brazilian Grand Prix, following a good performance which allowed him to run in sixth place during the last part of the race.
The Prost driver, always excelling under wet conditions, saw how BAR's Olivier Panis first, and Benetton's Giancarlo Fisichella later, prevented him from giving the French team their first points after more than a year.
However, Alesi is still hopeful for the upcoming races.
"In this type of race, with so many incidents, you can never let go until the end, which is what I did," said Alesi. "Unfortunately, even though I took advantage of the rain when it started, my car became more and more difficult to drive, and I could not stop the two cars behind me overtaking during the last laps.
"It is a pity that we could not make use of this opportunity but we continue to believe in ourselves. We are already focusing our efforts on the next race."
---