Sunday April 1st, 2001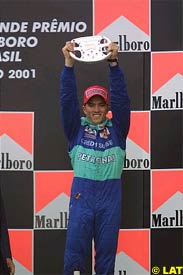 The Sauber team could hardly believe it on Sunday when German Nick Heidfeld gave the Swiss outfit their first podium finish since 1998 after a brilliant performance at the wheel of the Ferrari-powered C20.
Sauber, whose cars finished in the points at this season's first Grand Prix, showed their good form in 2001, with both Heidfeld and teammate Kimi Raikkonen running in the points during the second half of the race.
Heidfeld, who last year endured a tough debut season with the Prost team, was ecstatic with his third place.
"I really cannot quite believe this result," admitted Heidfeld. "We started the race with a normal dry-road set-up, and everything went well. I had some good battles, and could stay in contention. Then the switch to rain tyres was good.
"To visit the podium for the first time is incredible for me. I'm so happy for the team. We have really worked for this result. And for me it is just amazing! It's a lot more fun this year to be in the points, especially to finish on the podium."
"For the whole team this was a fantastic result, and confirms all the promise we have shown so far this season," said team boss Peter Sauber. "For the team is was a difficult thing to advise the drivers on tyre choice, but Nick Heidfeld made a very good decision to inform us that he preferred intermediate tyres in the conditions."
Meanwhile, 21-year old Raikkonen was not as lucky as his teammate, and a driving error put him out of the race.
"To begin with I had a little too much understeer, but when it started to rain my car felt good," Raikkonen said. "Unfortunately I spun once, and couldn't get enough traction on the grass to move uphill in the direction of the track, so I had to lose a lot of time rolling downhill before I could get back on to the track.
"The second time I spun it was just my fault. I know what the right rear tyre looked like on television, hooked over the rim, but that happened as the car skipped over the grass. I thought at one stage it was going to roll over, but it was okay. I'd like to say too that I'm very happy for Nick for his great result."
---