Sunday April 1st, 2001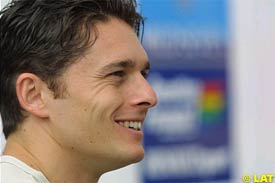 Giancarlo Fisichella brightened Benetton's dull season with a 'perfect' result at the Brazilian Grand Prix, as his team-mate Jenson Button failed to emerge from the gloom.
Italian Fisichella ended the rain-affected race sixth almost unnoticed as he won a battle of wits with veteran racer Jean Alesi.
"I am very happy as I did not expect such a good result and especially not to score a point which is unbelievable," said Fisichella. "I would have been very pleased to finish among the top-10.
"It was a good day and everything went as planned apart from the pit-stop where we were a bit unlucky. One point is perfect and I am happy for the team and myself."
Button suffered from understeer in the early stages of the race and then suffered with engine problems before coming into the garage for repairs.
"I was probably the slowest on the circuit and driving in the wet was absolutely horrendous. I can just say that I am glad to have finished the race and I'm looking forward to make improvements for the next Grand Prix."
---