Sunday April 1st, 2001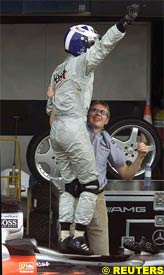 Brazilian Grand Prix winner David Coulthard said his success at Interlagos was the sweetest of his 10 top-level victories, and he admitted he had gambled for a wet set-up, something that gave him the edge over rival Michael Schumacher.
Coulthard also said he dedicated the victory to his sister Lindsay, who celebrated her 24th birthday today.
"It is the best feeling I have ever had after winning a Grand Prix," Coulthard claimed. "It is a great feeling, a really special one for me. I had almost forgotten what it feels like to win.
"It is alright for Michael. He wins five or six in a row and he gets used to it, but I honestly cannot remember when I last won a race.
"But this is the best one for me. It feels great and I am really happy because I told my sister I would win it for her today because it is her birthday. That makes me feel even better.
He added: "I know that dance on podium was terrible - really bad. But Michael (Schumacher) had just emptied a bottle of champagne inside my pants and I was just wriggling around to shift it. I can still feel it round my knees."
Coulthard took a gamble when he set up his McLaren in anticipation of rain, and said that the victory had given him a sweet feeling.
"I had set the car up for some rain later in the race and today it worked to plan," Coulthard said. "It feels great when you work with your engineers on something, you plan it and you don't just guess it, and it works. That is a sweet feeling.
"As to the championship, it is far too early to say anything. The championship positions don't count at this time of the season, they only count at the end.
"We know we face a big battle and it is going to be tough with a lot of hard work ahead of us. But we are ready for it. The team did such a good job for me and with the car this weekend, and we made a step forward following the last race.
"I don't know if we can do it again or if the opposition will make a bigger step before Imola, so we will have to wait and see."
Coulthard's team-mate Mika Hakkinen continued his miserable start to the season when he failed to leave the grid at the start of the race after a clutch problem cut out his engine.
Hakkinen, who is now 25 points behind championship leader Schumacher said: "Obviously I'm very disappointed and I'm not quite sure what happened.
"The lights came on and I was getting ready to go but then the clutch behaved so unpredictably and it cut the engine immediately. That was the end of my Brazilian Grand Prix."
---