Sunday April 1st, 2001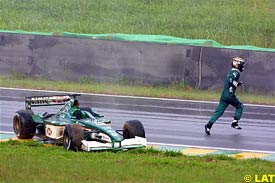 Eddie Irvine claimed a lack of luck prevented him from finishing in the top-six in the Brazilian Grand Prix and said Jaguar's fortunes will turn for the better soon.
Ulsterman Irvine was hit with a 10 second stop-go penalty after his mechanics were late leaving the grid as they re-started his car before the formation lap.
Irvine was running sixth at one point of the rain-affected race, but his race was ended when he stalled his engine after a spin in the latter stages of the 71-lap event.
"This race should have offered the potential of a points finish," said Irvine. "But luck was not on our side. Things didn't begin well but the team called a perfect time for the first pit-stop.
"The car felt good, but I struggled a bit until the fuel-load went down and then it felt even better."
Team-mate Luciano Burti failed to produce the performance he wanted in front of his home crowd as he suffered a poor start and ran in the mid-field before he was forced out with engine problems on lap 30.
"I didn't make a good start," admitted Burti. "I had the pace, but I was held up in the early stages and couldn't catch the guys in front. I heard a strange noise coming from the engine of the car and it ended my race."
---