Sunday April 1st, 2001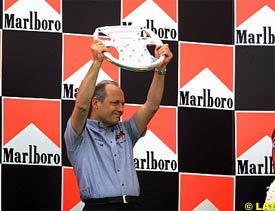 David Coulthard was acclaimed as a world title challenger to Michael Schumacher on Sunday, as his McLaren Mercedes-Benz team chiefs Ron Dennis and Norbert Haug celebrated his Brazilian Grand Prix win.
Dennis praised the Scot for his tactical assurance and Haug his exceptional driving after a race in which he seized his opportunities, judged his own moves to perfection and made no mistakes as he came in 16 seconds clear of Schumacher.
Coulthard's 10th career victory also ended Schumacher's sequence of six successive wins for Ferrari, made up of four last year and two in this season's opening races.
"Those guys did a really good job," admitted Schumacher. "They deserved to win."
As Schumacher accepted his spell of supremacy was over, the McLaren men argued that they had responded immediately to their poor start to the year in Australia and Malaysia.
"When Michael doesn't win a race or get the job done he always comes up with reasons for it," said Dennis, the McLaren team principal. "I think it is about time everyone gave David the credit he deserves."
Outstanding Race
"He ran an outstanding race today and it goes without saying that it was one of his best drives," added Dennis.
"He and his engineers did a really exceptional job in optimising the car for the different weather conditions that we predicted before the race.
"His pace in the rain was sensational and his discipline once he was in the lead was extreme. In the end, the points speak for themselves."
Haug, head of Mercedes-Benz motorsport, said he had always believed that Coulthard had the ability to win races and to challenge for the championship. "This proves it and he was exceptional again today," he said.
"He beat Michael fair and square in the extremely changeable weather conditions and I think David really deserved this win.
"Of course, we are happy also to have improved the car and the engine for this race and now we aim to make another step for Imola."
Haug also praised Colombian Juan Pablo Montoya for his sensational contribution to the race in his Williams-BMW.
Fighting Ferrari
Haug welcomed his form and hoped it signalled that Mercedes-Benz's perennial German manufacturing rivals BMW would be joining with them in fighting Ferrari for the title.
"That would be great, too, I think," said Haug. "But today was for David a really great day."
While Coulthard dedicated his victory, four days after his own 30th birthday, to his sister Lindsay who was 24 on Sunday, there were consoling words from the team for former champion Mika Hakkinen of Finland, who stalled his car on the grid.
"It was the first time that has ever happened to me," said Hakkinen. "And it was one of the most frightening experiences of my life. With all those cars going around me, I was very scared."
He jumped from his car, removing his steering wheel and abandoning his car on the grid, an act which resulted in him being fined 5,000 dollars.
"I feel sorry for Mika," said Haug. "But there is a long way to go and we will give him a better package."
Dennis said: "Mika's clutch problem effectively eliminated him immediately. The pit lane entrance being so far from the start line made it impossible for the mechanics to restart his engine.
"There are still 14 races to go and you only have to look at last year to appreciate that this championship is still wide open."
---