Sunday April 1st, 2001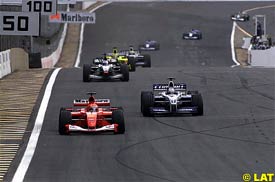 Colombian Juan Pablo Montoya took the Brazilian Grand Prix by storm on Sunday with a drive that marked him out as a potent threat to world champion Michael Schumacher.
"People are talking about a new era in Formula One. It's nonsense, but we have been joined by a new front-running driver," said Williams technical director Patrick Head.
Montoya led for half the race at Interlagos but what most impressed observers was the way in which he gave world champion Schumacher no quarter.
The Colombian, starting on the second row, made a flying start and was second behind Schumacher's Ferrari into the first corner.
With Mika Hakkinen's McLaren left stranded on the grid, the safety car came out for a lap.
When it went in again, Montoya made his move.
He took the inside line, barging Schumacher wide and outbraking the German into the corner.
He went on to lead for 36 laps before being taken out by Dutchman Jos Verstappen as he lapped the Arrows.
"I understand that Michael wasn't too impressed by Juan's overtaking manoeuvre but I've seen Michael doing very similar moves on other drivers," said Head.
"I think Michael's recognised that he's got somebody equally as tough as himself out there."
Montoya, in only his third race in Formula One after winning the 1999 U.S. Champ Car title and staying in that series last year, thought he could have won the race.
"I think if I hadn't had the problem with Jos I could have won," he said. "It was pretty good, I have to admit. The way the crowd was cheering I knew I was doing a good job."
Passing Pleasure
Former racer Gerhard Berger, now Motorsport director of engine makers BMW, was delighted with the Colombian's performance.
"It was a pleasure to see how Juan passed Michael Schumacher," he said.
"He did a good job. He showed his visiting card and I think he is going to drive a lot of good races for us.
"We were expecting what he did today because we brought him to the team knowing that he is very talented," added the Austrian.
Schumacher, whose six-race winning streak with Ferrari was ended by Briton David Coulthard in a McLaren, played down Montoya's move but agreed it had been well done.
"He got it right, braking very late," he said. "He pushed me wide but that is normal racing. We touched but that was not a problem.
"I thought I might get him back but I could not."
---