Thursday April 12th, 2001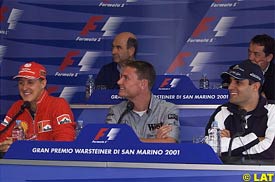 Participating: Michael Schumacher (Ferrari), David Coulthard (McLaren), Juan Pablo Montoya (Williams), Peter Sauber (Sauber) and Giancarlo Minardi (Minardi).
Q: Peter, what are your feelings about the season so far and this race?
Peter Sauber: The competition is very hard. I think that the competition will give us the chance to score points.
Q: I think what you're saying is that you will need a few people to drop out.
PS: Yes.
Q: You're just two points away from 100 world championship points, what does that mean to you?
PS: I hope we can produce points very soon.
Q: Tell us about your new plane, apparently it is painted up like your cars.
PS: Yes, but it belongs to Pilatus company. It is the first time we have used it here.
Q: Okay, thank you for the moment. Giancarlo, tell us - how close was Minardi to actually closing its doors during this last winter?
Giancarlo Minardi: The problems never really bothered us, otherwise we couldn't have gone forward with the decisions that were made towards a competitive season in Formula One. It was always predicted that Minardi would have a future. We couldn't stop to think about it or we would not have had the strength to push ahead.
Q: So you have a new partner in Paul Stoddart, how is that working when he has one half in England and you have the other half here in Italy?
GM: He's a great partner and we share the same passion, we're working very well together. And right now the two companies are working very well together. Each one has their precise jobs to do without any kind of overlapping.
Q: Giancarlo, over the years we've seen you with many different sponsors, business partners, engine partners and technical partners. Many have not really worked, what is the difference in this instance?
GM: For now everything's going fine. The experience of the whole company now is helping us move ahead. We have great determination in our company.
Q: Okay, thank you very much Giancarlo. Juan Pablo, what's changed in the last two weeks? Two weeks ago you led your first Grand Prix and it was a fantastic race in Brazil.
Juan Pablo Montoya: Have things changed? Not really. Coming here I've raced here before, it's the first track that I really know and it's the same attitude, just drive the car as fast as I can. We'll see what happens.
Q: Surely leading a Grand Prix gives you satisfaction.
JPM: I think it gives you a little bit extra knowing that you are capable of doing it. I'm very pleased that the performance has come so early.
Q: Do you think you can win this year?
JPM: Why not? But you know I haven't even made my first pitstop yet for example so...
Q: Still a way to go. This is the first circuit that you've raced on before, how much of a difference does that make?
JPM: It's going to help a little bit but not too much. Here I've only raced once in my life and that was about three years ago so when we get to places like Barcelona, Silverstone, places like that then I'll be a little more competitive from the start. I'm getting used to the car and it's difficult to catch up.
Q: So what's the reaction at home been since Brazil?
JPM: They were pretty excited. A lot of people were quite excited about that and it's pretty good.
Q: We'll watch with interest. David, good race obviously a couple of weeks ago, do you think you're better able to cope with the McLaren in its current state than perhaps your team mate is?
David Coulthard: I don't think so. I think that I've had a fortunate start to the season, the car's been reliable and I've made the most of the situation. Some of the incidents on the track have opened up to my benefit and I think it's just as simple as that. In this modern world that we live in you all want to every two weeks put someone in a box. You all want to know who's hot, who's not and I think that if you 're trying to suggest that Mika's not able or not capable of getting round this then I'm not quite sure what you've been smoking.
Q: Somebody has asked over the last couple of weeks - and this may sound very unfair to you - but this is a question that they asked...
DC: Why don't you just ask the question?
Q: It is very early in the season but do you feel this is your greatest chance, and do you also feel it's your last chance for the world championship?
DC: I don't know the answer to either of those questions. I feel that I've got a good opportunity at McLaren, I don't think I'm here by accident, I think I'm here because I can do the job and who knows what's around the corner? I don't know if it's my last chance but, again, it's an example of people wanting to put your career in a box and close the lid before you're actually at the end of your career. That's what makes it exciting, you'll just all have to wait and see.
Q: Okay, thank you David. Michael, once again a colleague asked you at the last race if there was any conflict in the team and he suggests that you said there was something wrong with the car and you said so to Ross Brawn.
Michael Schumacher: Certainly the car wasn't working good enough to compete, which is a nuisance but it doesn't mean there is conflict in the team. I am responsible for my setup, it's not as though everybody has to tell me what to use as my setup and my engineer work it out over the weekend. We believe in it but sometimes you find out it's not good enough to win.
Q: Has a solution come to light about what the problem was?
MS: There was no particular problem with the car nothing was wrong with the car itself, so if you have to probably you say it was the setup.
Q: Some people might say that there is a chink in the armour, that the run of wins has come to an end, David Coulthard won, you were overtaken by Juan Pablo, what are your own feelings?
MS: I think it's part of racing, you can't win every race, it's impossible. After the first two races I couldn't have dreamed of such a start to the season. I thought it would be much tighter and maybe we would be behind initially. Now we are being caught up. I presume if you look at the lap times personally Brazil was a pretty straightforward result and only with the development of the year will we find out which team is strongest.
Q: Do you feel you can bounce back here?
MS: We could have continued to bounce in Brazil if we could have maximised our opportunities but we haven't because the competition is tight.
Q: What about your feelings with regard to the manufacturer situation buying into Formula One?
MS: There has been experience in other series where this has happened and it has not made the situation easier, actually more complicated. We're at a different level, so I don't know it would be the first experience ever in Formula One if this was the case. We have to find out and see how it works. Formula One is doing well and obviously the manufacturers are interested in this kind of development. It will be interesting to see how it develops.
Q: Do you think that it will be a benefit?
MS: I think it is a benefit to have so many manufacturers in. It depends who is in a position to steer things.
Q: And do you think it's a good idea to have a television company in?
MS: It's probably wrong to say no and it's probably wrong to say yes. Bernie has been the right person and he will be around for quite a while and he will continue to do things but we must see who can replace him.
QUESTIONS FROM THE FLOOR
Q: Michael, in Italy and Germany you have the entire crowd cheering for you, do you enjoy it?
MS: Yes certainly. The most enjoyable thing is when you can celebrate a win with them. There's no extra pressure because when you sit in the car you are so concentrated you don't really realise. It doesn't give any trouble. You always try your best but it's always really enjoyable.
Q: David do you feel any extra momentum or do you look at this race in a box?
DC: The only thing you can carry through from another race is confidence. It's a different track with different challenges and therefore the performance of all the cars will vary slightly.
Q: Juan Pablo, did you watch Long Beach on TV and do you stay in touch with your old CART friends?
JPM: I watched the race but I don't really get time to call anyone - my old engineer that's about it.
---