Thursday April 12th, 2001
By Alan Baldwin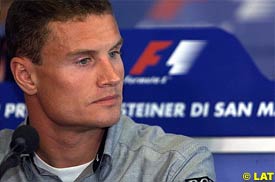 Briton David Coulthard defended his McLaren team mate Mika Hakkinen on Thursday from those who suggested the former world champion had lost his touch.
"I don't think so," he replied when asked at a news conference whether he felt he was better able to cope with the McLaren in its current state than Hakkinen.
The Finn has scored just one point in three races and in Brazil, his 100th race for McLaren's engine provider Mercedes, he stalled on the grid and played no further part in the race.
Coulthard won in Brazil this month and is second overall on 20 points, behind Ferrari's world champion Michael Schumacher on 26, heading into Sunday's San Marino Formula One Grand Prix.
"I think that I've had a fortunate start to the season, the car's been reliable and I've made the most of the situation," said the Scot, who seemed unusually prickly under questioning.
"Some of the incidents on the track have opened up to my benefit and I think it's as simple as that.
"In this modern world that we live in, you all want to every two weeks put someone in a box.
"You all want to know who's hot and who's not and I don't think anyone would try and suggest Mika's not capable or not able to get round this car...I'm not quite sure what they've been smoking," he added of the critics.
Coulthard also fended off suggestions that this season might be his best and possible last chance of taking the title.
"I feel that I've got a good opportunity at McLaren, I don't think I'm here by accident," he said.
"I think I'm here because I can do the job and who knows what's around the corner.
"I don't know if it's my last chance but again, it's an example of people wanting to put your career in a box and close the lid before you're actually at the end of your career."
Coulthard won at Imola three years ago and said after the Malaysian Grand Prix last month that McLaren would be looking for a significant improvement at the Italian track.
"There's been a slight delay, you'll have to wait to Barcelona," said the Scot, to laughter, when asked about that.
"I was only repeating in Malaysia what I had been told by the team and I never really questioned why," he added implausibly.
"We try and get the best out of the car at every race and there was not one thing in my mind particularly when I was saying that in Malaysia, other than that I thought maybe once we were able to test the car in Europe."
Both McLaren and champions Ferrari had intensive testing sessions in Europe after Interlagos.
"I think we're still coming from behind," said Coulthard, who won in Brazil from third row on the grid. "We have made some improvements at Silverstone, we'll see how we do here.
"I like this track. It is difficult to race on, quite tight, and not many overtaking opportunities. I've won here before and I cannot see why I can't do it again."
---