Thursday April 12th, 2001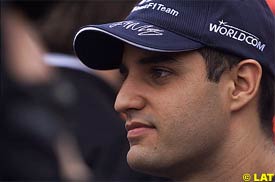 Colombian Juan Pablo Montoya has yet to make a pit stop in his brief Formula One career but he has already won the respect of world champion Michael Schumacher.
And the Williams driver is also ready for a fight or two in the days ahead.
"Have things changed? not really," he told a news conference ahead of Sunday's San Marino Grand Prix when asked about the last two weeks of his career.
The weekend before last, Montoya overtook Schumacher and led for half of the Brazilian Grand Prix before being dumped out by Dutchman Jos Verstappen, who hit the rear of the Williams after it lapped his Arrows.
Now the 1999 CART champion arrives at the first track of the season that he knows from his Formula 3000 days.
"I've raced here before, it's the first track that I really know and it's the same attitude: just drive the car as fast as I can. We'll see what happens," he said.
"I think it gives you a little bit extra knowing that you are capable of doing it," he said of leading the race.
Montoya said Interlagos proved that a win was close at hand for Williams, who last tasted victory in 1997.
"You could say we are a step away from winning... I'd be surprised if we don't win a race this season. The potential is there," the Colombian told Reuters earlier in the week.
In only his third Formula One race, Montoya proved his potential by making a flying start from the second row. He then barged Schumacher wide and outbraked the German into the corner.
His lead was Williams' first since 1997.
Montoya said on Thursday that he felt he could win a race this year but was focusing first on a few basics - such as finishing a race or even just reaching the pits.
Pit Stop
"I haven't been to my first pit stop yet... I think the first step for me has to be to finish the race in the points," the 25-year old said.
Montoya appeared calm after Verstappen ended his chances of victory at Interlagos.
"That's racing. I was so happy with the job I did, it was disappointing, but it was another step forward for me," he said earlier in the week.
"(But) one time I'll explode. If I'm fighting for the championship and that happens, I'll kill the guy."
Schumacher, now a triple world champion, admires his spirit.
"Montoya doesn't have any respect for other drivers, which I didn't have either when I started," he was quoted as saying in the British weekly Autosport on Thursday.
"And that is quite right. Why should you?
"It is great to have such people in F1. They put the sport on a higher level," said the Ferrari driver. "They increase the attention of F1 and it helps.
"I am happy to see a guy like him coming and doing well. It is not often that it happens...he is also a good racer, which he showed in Brazil with quite a good manoeuvre.
"I like these kind of guys because we can have good fights."
Rough Edges
Montoya says his task now is to iron out the rough edges and the little mistakes that cost fractions of seconds and to perform through all the practice sections and into the race.
"In Brazil I was on top of my game and I need to learn to do that consistently."
He said he is unfazed by the attention he has attracted and by those eager to label him as a champion-in-waiting.
"It's big because I passed Michael Schumacher... I think people talk too much, but I wouldn't mind if it was true," he said.
"I always push hard and if I have the opportunity to win I'll take it. The speed is there but I need to learn to maximise it."
For Montoya, Schumacher is clearly the best, but a clear second to his idol Brazilian Ayrton Senna, who was killed in a Williams at Imola in 1994.
"Ayrton is something completely different... Schumacher's the best, but there's nobody out there you could say is unbeatable," he declared.
"When I passed him, I thought he should be a lot quicker than me... After I settled in, I started pulling away. It was fantastic."
Imola could be harder work for the Colombian.
"I think it's going to suit the car, but I don't see as being as good as in Brazil," he said.
---