Thursday April 12th, 2001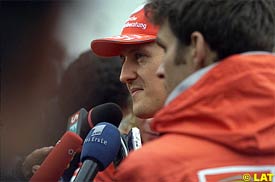 World champion Michael Schumacher's confidence may have taken a knock after his disappointing display in Brazil, but the German is taking his defeat at the hands of McLaren's David Coulthard as a warning as he prepares for Ferrari's 'home' race at Imola this weekend.
"It is all part of racing to not win every race - it's impossible," said Schumacher. "In the first two races, the others had not achieved their maximum and they did in Brazil.
"It was the third race with a straightforward result and we knew it would happen," continued Schumacher, explaining his Brazilian disappointment.
"It is normal now we have to catch up and work hard to get into the front again, like McLaren did.
"Now we see the development over the year to find which team is stronger. We could bounce back here as we could have done better in Brazil."
Schumacher took responsibility for the Brazilian race in which he struggled to get to grips with a slippery wet circuit, but he played down suggestions of an internal battle within the team.
"Certainly the car wasn't good enough to compete, which is a nuisance," he said. "And it's unusual but it doesn't mean there was a conflict within the team.
"I am responsible for the set-up of the car and that's it. We believe in it. It is up to me.
"It's not as though everybody has to tell me what to use as my set-up and my engineers work it out over the weekend. We believe in it but sometimes you find out it's not good enough to win."
---