Friday April 13th, 2001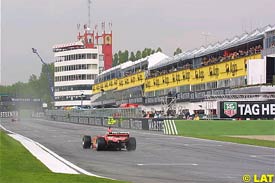 Times tumbled towards the end of the first practice session for the San Marino Grand Prix on Friday as a drying track allowed Rubens Barrichello to lead the timesheets for Ferrari.
The Brazilian driver set a time nearly one-and-a-half seconds faster than team mate Michael Schumacher as Ferrari's preparations for their 'home' race began well.
Mika Hakkinen set third fastest time after spending most of the session in the garage, and his team mate David Coulthard ended in fourth.
Behind, Jordan claimed fifth and sixth with Jarno Trulli and Heinz-Harald Frentzen.
Arrows driver Jos Verstappen was forced out of the session after stopping on his first lap, and Fernando Alonso was also prevented from setting a competitive time with mechanical problems with his Minardi.
As the McLarens stayed firm in the pits, both the Ferraris came out early, and soon nestled into their usual position on top of the timesheets.
When Coulthard came out with 40 minutes gone, however, the Briton battled with Schumacher and Hakkinen - but it was Barrichello who went clear at the top with a superb time.
Pos. Driver        Team                   Times                 
 1.  Barrichello   Ferrari            (B) 1:31.998  193.035 km/h
 2.  M.Schumacher  Ferrari            (B) 1:33.418    +    1.420
 3.  Hakkinen      McLaren Mercedes   (B) 1:33.911    +    1.913
 4.  Coulthard     McLaren Mercedes   (B) 1:33.978    +    1.980
 5.  Trulli        Jordan Honda       (B) 1:34.119    +    2.121
 6.  Frentzen      Jordan Honda       (B) 1:34.549    +    2.551
 7.  Raikkonen     Sauber Petronas    (B) 1:35.153    +    3.155
 8.  Panis         BAR Honda          (B) 1:35.390    +    3.392
 9.  Irvine        Jaguar Cosworth    (M) 1:35.683    +    3.685
10.  Villeneuve    BAR Honda          (B) 1:36.192    +    4.194
11.  Bernoldi      Arrows Asiatech    (B) 1:36.521    +    4.523
12.  Fisichella    Benetton Renault   (M) 1:37.231    +    5.233
13.  Heidfeld      Sauber Petronas    (B) 1:37.727    +    5.729
14.  R.Schumacher  Williams BMW       (M) 1:37.837    +    5.839
15.  Button        Benetton Renault   (M) 1:38.256    +    6.258
16.  Mazzacane     Prost Acer         (M) 1:38.382    +    6.384
17.  Montoya       Williams BMW       (M) 1:39.812    +    7.814
18.  Alesi         Prost Acer         (M) 1:39.961    +    7.963
19.  Marques       European Minardi   (M) 1:41.116    +    9.118
20.  Burti         Jaguar Cosworth    (M) 1:41.867    +    9.869
21.  Alonso        European Minardi   (M) 1:50.761    + 0:18.763

All timing unofficial

---