Friday April 13th, 2001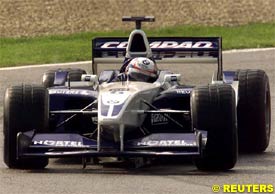 Gerhard Berger, BMW's motor sport director, has said that an engine failure cost Juan Pablo Montoya track time in Friday afternoon's practice session for the San Marino Grand Prix.
Williams driver Montoya sat on the pit-lane wall after his BMW power-unit suffered a "complete failure" and he ended more than 14 seconds down on Michael Schumacher.
"It's our first complete engine failure this year," said Berger. "We had little problems before but it is the first time we have need a whole engine change.
"It makes it difficult for Juan Pablo, but he can cope with it and will still produce the goods."
---