Friday April 13th, 2001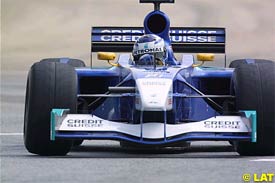 The Sauber team continued to impress with their performance this season at Imola, where Finn rookie Kimi Raikkonen was sixth quickest while teammate Nick Heidfeld was twelfth.
Raikkonen, whose four-race temporary superlicense expires on Sunday's race, had to learn another new circuit, but the 21-year old admitted that was not a problem for him.
"It's been a pretty good day for me," said Raikkonen. "I didn't find the track particularly difficult to learn, and the car was good all day. I started on wets then switched to intermediates this morning while I was learning my way round, and the track was slippery.
"Once it dried out I could really start to push, but my quick lap wasn't anything special.
German Heidfeld, who endured one the best weekends of his career in Brazil two weeks ago when he finished in third place, was also happy with the day's progress.
"Generally I'm quite happy with the car," admitted Heidfeld. "It was very competitive in the wet this morning and would have been quicker still except that we ran out of time to make a change in set-up.
"My final run on new tyres this afternoon was interrupted initially by yellow flags and after that I just didn't get a lap together. Though my lap time might not reflect it, the car is also competitive here in the dry so I know I can go quicker."
---