Friday April 13th, 2001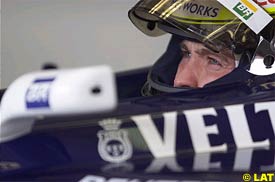 Ralf Schumacher posted the third quickest time in Friday's practice for Sunday's San Marino Grand Prix, but said he was not satisfied with the set-up of his BMW-Williams car.
German Schumacher is looking for an improvement in the set-up of the car as he also hopes for less rain over the weekend at the Imola circuit.
"Even though the first free practice session is not so significant, position three is not a bad start," Schumacher said. "Furthermore, the gap to those behind me is quite big and the positive trend goes on.
"My car is still a bit nervous and we have to improve the set-up, but the base is good. But what could disturb us here is the rain."
Schumacher's team mate Juan Pablo Montoya was bottom of the times after an engine failure halted his day prematurely.
Montoya said: "In the morning practice we tried different tyres and I was trying to learn the track, but in the wet it was very difficult.
"In the afternoon, when it was finally dry, I could do one lap only and I heard a strange noise coming from the engine. I came in and BMW told us we had to call it a day."
---