Friday April 13th, 2001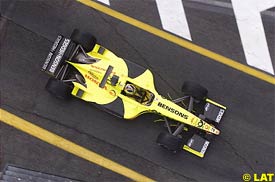 The Jordan Grand Prix team endured a 'trouble-free' practice session on Friday, but their drivers Jarno Trulli and Heinz-Harald Frentzen had to settle for 9th and 13th places respectively.
However, despite his position, Trulli was satisfied with the day's work and he admitted the team was working in the right direction in order to have a good race on Sunday.
"A good day; trouble-free," said Trulli. "We worked all day with the race in mind; fuel, tyres and so on. Everything was working well but we don't know how quick we are compared to the other teams because we don't know the fuel loads they were running.
"I'm happy with the balance of the car even if the track conditions changed. We had a wet-set up initially but when the track dried very quickly, I couldn't change the set-up as much as I wanted, which meant I was struggling a little bit. But we already know which direction we have to take tomorrow."
German Frentzen also had a trouble-free day and was pleased with his car despite losing seven positions in the afternoon session after ending sixth during the morning.
"The usual Friday practice, concentrating on the race set-up," said Frentzen. "I had no problems at all. It was unusual to run in the rain here so we learned something from that. But, otherwise, it was routine and I'm happy with progress so far."
---