Friday April 13th, 2001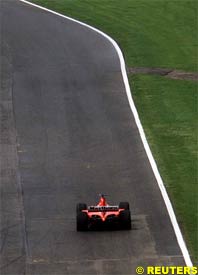 Michael Schumacher is on track to equal Ayrton Senna's record of eight consecutive pole positions as he posted the quickest time in San Marino on Friday after Friday's practice.
Schumacher needs another pole position at Imola on Saturday to equal Senna's record set in 1989, and he got off to the perfect start at Imola on Friday.
"Today we encountered all the conditions we wanted to have and that allowed us to get the right set-up and find out how the car was handling in all conditions," Schumacher said.
"In both the wet and the dry we have shown we are competitive again. I think what happened in Brazil was just an exception, at least that's what I hope. I think if we have similar conditions over the weekend we can confirm that."
Brazilian Rubens Barrichello ensured Ferrari dominated in front of the 'Tifosi' as he was second quickest in the sessions as he worked on a different set-up to Schumacher.
"I'd say today has been pretty good as we were able to run in the wet and the dry," said Barrichello.
---