Friday April 13th, 2001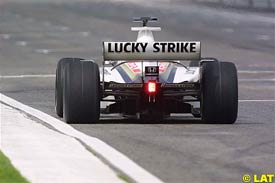 Race on Sunday, sell on Monday.
That is why car makers and sponsors are splurging hundreds of millions of dollars on backing Formula One world championship racing cars.
No matter that there can only be one winner, or that one or two teams such as Ferrari and McLaren Mercedes tend to split most of the laurels between them.
Car manufacturers and assorted sponsors selling computers, watches, cigarettes, software, mail services, clothes, tyres, petrol, insurance and information services reckon that win or lose, it makes sense to sponsor Grand Prix racing.
Exposure of these products on scarlet Ferraris and silver McLarens screaming around race tracks on global television apparently does have a big impact.
"Win on Sunday or at least race on Sunday and sell on Monday, they (car makers and sponsors) do appear to believe that," said Professor Andrew Graves, European director of the International Motor Vehicle Programme at Bath University.
And the key is the huge global advertising audience that the sport can deliver, estimated by some at up to 700 million every second Sunday during the nine-month season.
The fourth race in the current world championship, the San Marino Grand Prix, takes place at Imola, Italy, on Sunday.
Biggest spectator sport
"It's the biggest spectator sport after the Olympics and World Cup football and unlike them it takes place every two weeks not every four years," said Professor Merrick Taylor.
Taylor, professor of design engineering at De Montfort University in Leicester, said the TV audience was well over 500 million and probably nearer to 700 million.
Most industry estimates put this audience closer to 300 million.
Because of this huge marketing opportunity, car makers are prepared to stump up big money to run racing teams and then sell sponsorships for companies to showcase their products.
According to the monthly magazine Eurobusiness, a winning Formula One team will cost some $250 million a year to run, although up to 90 percent of the cost will be recouped from sponsors.
Eurobusiness estimates Ferrari and McLaren Mercedes spend a little more than this before sponsorship income -- $284.35 million and $274.55 million respectively.
Wannabes such as BMW-Williams, Jaguar, Benetton Renault Jordan Honda and BAR Honda are spending less than $200 million. Even outsiders Prost and Minardi are burning close to $50 million a year.
Hostile to pay-TV
And the huge marketing opportunity offered by Formula One shown on terrestrial television explains why car makers reacted in such a hostile manner to reports that the new owners of Formula One might seek to move the sport to pay-per-view TV.
German media company EM.TV and pay-TV operator Kirch-Gruppe have together built up a 75 percent stake in SLEC, the company once owned by Formula One racing supremo Bernie Ecclestone. This led to speculation that television coverage of Formula One might be limited to pay-per-view.
Car manufacturers reacted angrily to this possibility, threatening to set up their own rival Formula One circuit when the current contract expires in 2007, because pay TV would have stymied their own ambitious plans to boost brand images to a huge, free-to-air TV audience.
Professor Graves said this was not hot air.
"Now that there is less tobacco money in the sport, the car manufacturers are the biggest investors so this is far from an empty threat," said Graves.
But Graves warned that a diluted Formula One might end up like boxing. World boxing now has an alphabet soup of bodies -- WBO, WBA, WBC, IBF, NABA -- which claim to control the sport.
The U.S. equivalent of Grand Prix racing, the IndyCar series, has split into two -- IRL and the CART series.
"The U.S. Grand Prix scene has become a second-rate spectacle. The vehicles are crude, the circuits crude, not very sophisticated. The U.S. circus really lost out because of that split. That will make the Europeans very careful before they do anything," said Mike Wattam, automotive industry consultant with Mike Wattam and Associates.
No breakaway
Formula One is likely to sort out this problem and go from strength to strength, according to Taylor, not least because the sport has come up with a format which allows even the losers to be able to show that involvement is cost effective.
Taylor said participation, even by no-hopers, demonstrates they are at least involved in a venture which demands command of the latest techniques in technology, safety, and reliability.
"It is enormously important to the likes of DaimlerChrysler, BMW, Ford (which owns Jaguar), Renault, Honda, and Toyota which will be involved next year," Taylor said.
"Obviously it's nice to win but being involved with all the media impact is important too. Participation is almost as significant as winning," Taylor said.
IMVP's Graves said that many of the circuit safety measures which have been introduced had an unintended benefit. They slowed cars down and made it more difficult to overtake.
This means that instead of just blasting past, race leaders such as world champion Michael Schumacher in his Ferrari often have to wait behind back markers. This gives even also-rans some time in front of the cameras so their advertising can be televised.
---