Friday April 13th, 2001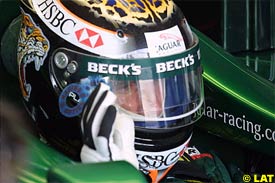 Jaguar driver Eddie Irvine is relying on a new development of his car's Cosworth engine to earn him a top-six qualifying place for the San Marino Grand Prix.
Irvine was seventh after Friday's free practice but revealed his car's power-unit will change for qualifying on Saturday as he bids to improve on his placing.
"We have similar challenges to the ones we normally experience," said Irvine after practice. "We need to keep working.
"The new front wing gives us more options, but I'd like more time with it before making a definite choice. And we also have a new development of the Cosworth CR3 engine which we will use tomorrow - we'll see how it goes."
Irvine's team mate Luciano Burti is also confident as he posted the 10th best time on Friday. The Brazilian driver was glad to feel that his R2 car was set-up well for the Imola circuit.
"Being three-tenths off Eddie is encouraging and the car seems to be better here than at any of the three tracks to date this year," Burti said.
"I tried a new front wing for the first time and it seems to have made a step forward for me. It helped with front-end grip and that means not having to compromise the rear as much."
---