Friday April 13th, 2001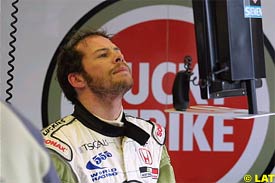 The British American Racing team should have scored more points than they have so far this season, Canadian driver Jacques Villeneuve said Friday.
"I think the car's been more competitive than the results we've got so far, we got some points in the last race but we're backwards in the championship compared with where we wanted to be," said the 1997 world champion.
Villeneuve, speaking after opening free practice for Sunday's San Marino Grand Prix, said the car seemed to be working a lot better at Imola than it had at the previous three tracks.
He said a podium remained a distinct possibility.
"At the last race anybody could have been on the podium and there's going to be other races like that. It looks like we're more competitive here than we were in the first three races and so it is possible."
Villeneuve has yet to score a point this season after crashing heavily in the season-opening race in Australia, an accident that left a marshal dead after he was hit by a loose wheel that punched through a safety fence.
The Canadian was eighth fastest in practice, with French teammate Olivier Panis ahead of him in fifth.
Panis has pushed Villeneuve hard since he joined the team this season and scored three points at the last race in Brazil. Villeneuve was seventh at Interlagos.
Panis was also dropped from fourth to seventh in Australia for an overtaking infringement.
---