Saturday April 14th, 2001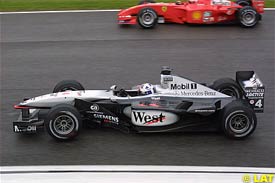 McLaren's David Coulthard put in a tremendous lap to claim McLaren's first pole of the year after a frantic end to qualifying for the San Marino Grand Prix.
Briton Coulthard's quickest time of 1:23.054 knocked his team-mate Mika Hakkinen off the provisional pole with a final flying lap as the McLaren pair secured their first front row double since Canada last year.
The McLaren revival soured the atmosphere in the garage of home heroes Ferrari as German Michael Schumacher had to settle for fourth despite being at the head of the times for much of the session, and Rubens Barrichello could only claim sixth.
Schumacher's younger brother Ralf claimed third spot in the hectic final minutes for Williams, and Jarno Trulli was in fifth for Jordan.
Colombian Juan Pablo Montoya ended a promising but ultimately disappointing session in seventh, and the Honda runners of Olivier Panis in the BAR and Heinz-Harald Frentzen in the Jordan, claimed eighth and ninth with Raikkonen filling out the top ten.
Threatening clouds forced all 22 drivers out in the opening minutes as the teams attempted to take advantage of the conditions in case of rain later in the session.
Schumacher's Ferrari team-mate Barrichello then posted the fastest time five minutes into the session before Ralf Schumacher, Frentzen, Hakkinen and Barrichello again improved the best time before Coulthard settled on top spot.
Hakkinen then improved but then the elder Schumacher topped the field as he chased a record eighth successive pole position.
Jaguar's Eddie Irvine struggled with a poorly handling Jaguar and the Ulsterman was the only man out on track midway through the session, trying to improve from 21st and eventually ending in 13th spot.
But Hakkinen challenged Schumacher to improve when the Finn moved into provisional pole with a time of 1:23.381 on his ninth lap.
But he could do nothing and it was Coulthard who took up his team-mate's challenge to claim pole.
Pos. Driver        Team                   Times                 
 1.  Coulthard     McLaren Mercedes   (B) 1:23.054  213.822 km/h
 2.  Hakkinen      McLaren Mercedes   (B) 1:23.282    +    0.228
 3.  R.Schumacher  Williams BMW       (M) 1:23.357    +    0.303
 4.  M.Schumacher  Ferrari            (B) 1:23.593    +    0.539
 5.  Trulli        Jordan Honda       (B) 1:23.658    +    0.604
 6.  Barrichello   Ferrari            (B) 1:23.786    +    0.732
 7.  Montoya       Williams BMW       (M) 1:24.141    +    1.087
 8.  Panis         BAR Honda          (B) 1:24.213    +    1.159
 9.  Frentzen      Jordan Honda       (B) 1:24.436    +    1.382
10.  Raikkonen     Sauber Petronas    (B) 1:24.671    +    1.617
11.  Villeneuve    BAR Honda          (B) 1:24.769    +    1.715
12.  Heidfeld      Sauber Petronas    (B) 1:25.007    +    1.953
13.  Irvine        Jaguar Cosworth    (M) 1:25.392    +    2.338
14.  Alesi         Prost Acer         (M) 1:25.411    +    2.357
15.  Burti         Jaguar Cosworth    (M) 1:25.572    +    2.518
16.  Bernoldi      Arrows Asiatech    (B) 1:25.872    +    2.818
17.  Verstappen    Arrows Asiatech    (B) 1:26.062    +    3.008
18.  Alonso        European Minardi   (M) 1:26.855    +    3.801
19.  Fisichella    Benetton Renault   (M) 1:26.902    +    3.848
20.  Mazzacane     Prost Acer         (M) 1:27.750    +    4.696
21.  Button        Benetton Renault   (M) 1:27.758    +    4.704
22.  Marques       European Minardi   (M) 1:28.281    +    5.227

All timing unofficial

---