Saturday April 14th, 2001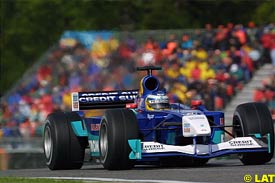 Despite qualifying in front of his teammate Nick Heidfeld for the first time this season, Sauber's Kimi Raikkonen was disappointed with his tenth place on the grid for Sunday's San Marino Grand Prix.
21-year old Raikkonen, making his debut in Formula One this season, impressed during practice at Imola, finishing in fourth place in today's morning session, but he was unable to repeat his performance during qualifying
The Finn admitted he made a mistake on his final run, which probably cost him a couple of tenths.
"A top ten qualifying position is good, but I'm not happy because I know I should have been higher than 10th place," said Raikkonen. "On my last run things were looking good, but I braked a little bit too late in the last corner and ran over the kerb on the inside and lost maybe three or four tenths.
"It would have been nice to finish the lap well because without that I should have been eighth or ninth. But these things happen. The car is very good here, and itīs doing everything I want it to."
Teammate Heidfeld was not satisfied with his performance either, complaining of balance problems on his car, after ending the session in 12th position.
"Basically there was nothing special about qualifying for me," Raikkonen said. "I had traffic on my second to last run, and then we made a change to the car for the last one.
"Unfortunately we still had some balance problems, and I lost time in the last sector. I just don't understand where the speed went, after the car was so good yesterday and again this morning."
---