Saturday April 14th, 2001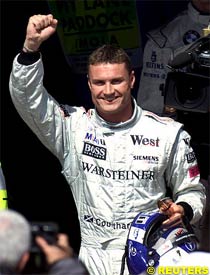 David Coulthard was delighted with McLaren's late show which allowed him to secure pole position in the closing seconds at Imola - and laughed as he denied Michael Schumacher a record-equalling eighth successive pole in front of Ferrari's home crowd.
"It is not personal," he said. "I feel fantastic to be on pole and have a big advantage for the start. I am sorry for the Italians and supporters of Ferrari - and I think we will try not to do it again."
Coulthard said that he was shocked by McLaren's rapid improvement to claim the front row and admitted that last-minute changes had made all the difference.
He added: "I am a little surprised but I expected to see an improvement on this track. The team changed the car last night and worked until four o'clock this morning.
"It just wasn't eventful enough to know that you are absolutely on the limit, it was certainly always a good lap but I prefer to feel the car move around a little bit more on the exits to know that I've got the maximum out of my acceleration.
"And it felt quite calm. I don't know if that means it was a perfect lap...but it was good enough today."
Coulthard also took pole for the race at Imola in 1998 and went on to win.
"That's the kiss of death isn't it," he joked when reminded of the precedent. "Hopefully it will be the case tomorrow."
Team-mate Mika Hakkinen lines up alongside Coulthard on the front row but was philosophical about being out-qualified by the Scot for the first time this year.
Hakkinen said: "Many occasions I have been in front and this time it is nice to let him be there. It is very simple. We are team-mates and it is nice for David to have the pole."
---