Saturday April 14th, 2001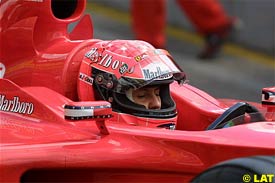 World Champion Michael Schumacher admitted he was not too disappointed despite having to start from the second row of the grid at the San Marino Grand Prix, as he thinks he has made the right tyre choice for Sunday's race.
Schumacher, who was aiming to equal Ayrton Senna's record of eight pole positions in a row, saw how he was relegated to fourth place by McLaren rivals David Coulthard and Mika Hakkinen, and his younger brother Ralf at the wheel of the BMW-Williams.
However, Schumacher believes Ferrari's decision to choose the harder tyre compound will pay off on Sunday.
"I think I am happier starting on the second row of the grid on the right tyres for tomorrow, than to be on pole with the wrong ones," said Schumacher. "It was clear that the right moment to go for a time was at the end, but I did not make the most of it. I lost four tenths in the last sector on my last lap. It was my fault.
"The car's balance is as neutral as it has to be and it wasn't an issue today. I am not bothered about missing out on eight consecutive poles, but I am disappointed for our fans. But I can assure them that tomorrow will be interesting. Strategy will be very important.
"The situation is not as bad as it looks and starting from fourth place, everything is still possible."
Meanwhile, Brazilian teammate Rubens Barrichello also endured a tough qualifying session, having to settle with sixth place.
"Obviously, I am not happy with this afternoon's result," admitted Barrichello. "The car was pretty much on the pace, but I ran into traffic on all my runs, never getting a single clear lap. I am very disappointed as the day was looking good.
"It will be a very open race tomorrow. I will be relying heavily on our tyre choice to make up the positions I lost today."
---