Saturday April 14th, 2001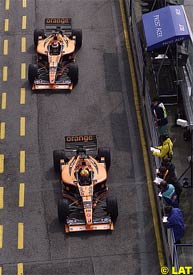 While Brazilian rookie Enrique Bernoldi was happy with his performance in Saturday's qualifying session, Jos Verstappen admitted he was very disappointed after being outqualified for the first time by his Arrows teammate.
Bernoldi qualified in 16th position at Imola, the first Grand Prix circuit where he had raced before, and was happy with his performance, but admitted there's still work to do.
"We worked hard throughout the session, developing the set-up to suit the conditions," said Bernoldi. "I had a small problem on my third run but the last run went really well so I'm happy with my qualifying time. Of course we want to be higher up the grid but we are working hard to achieve that.
Verstappen was not so happy after having qualified right behind his teammate, and the Dutchman blamed his performance onn having to use to the spare car for his final run, when the track was at its best.
"I'm very disappointed with that," admitted Verstappen. "Everything was going well and I was taking a lot of time off during each run. At the end of my third run there was an electrical problem so I had to switch over into the T-car.
"Although it had all my settings, it is never quite the same as your race car so I lost a lot of momentum and couldn't improve It's disappointing as the last run is usually the best so I wasn't able to finish the job off properly today."
---