Saturday April 14th, 2001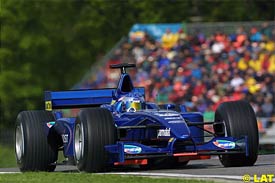 Prost Grand Prix drivers Jean Alesi and Gaston Mazzacane were not able to get the best out of their Michelin tyres during an 'unpredictible' qualifying session and could not live up to their promising start for Sunday's San Marino Grand Prix at Imola.
"After an encouraging start of the weekend, qualifying was unpredictable and difficult for us and we simply couldn't get the best out of the tyres," said team boss Alain Prost. "Jean ran on different setups to try and adapt to the changing track conditions but it was only on his last run that he found a good compromise.
"It was too late to set the time that we were hoping for, but that gave us a good base for tomorrow's race."
Frenchman Alesi admitted he expected to be higher up the grid after finishing outside the top ten in fourteenth place, but the veteran driver remained positive for the race.
"Obviously I expected a better result," confessed Alesi. "But this afternoon the track conditions changed very rapidly and we have not been able to obtain the best from the car. However, I remain motivated and I look forward to tomorrow's race, on this circuit to which am particularly attached."
Meanwhile, Mazzacane endured another poor performance today, with a best time 2.3 seconds slower than the first of the Prost cars.
Mazzacane said: "In spite of yesterday's good work, since this morning I have struggled to find a good set up. And unfortunately, even if I made some progress throughout the afternoon's session, I was not able to qualify in a more satisfying position,"
---