Saturday April 14th, 2001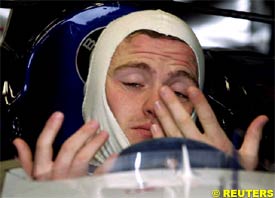 Ralf Schumacher gained a rare upper hand over elder brother Michael as the Williams driver edged to third place on the grid at Imola.
Michael, bidding to claim a record-equalling eighth successive pole, was forced to settle for fourth spot as his younger brother once again showed the competitiveness of the Williams car.
"We were only a few tenths behind the Ferraris on Friday and they are generally quick as they try to get the spectators in for the weekend," Schumacher joked. "It's a shame it didn't work out for my brother but I'm sure he will get things sorted out tomorrow.
"I am not worried about Michael. I am always called the smaller one but actually I am bigger and heavier. I don't think he will come too near me or anything in the race and I think this is the first time I have outqualified him in Formula One.
"I left it late and I didn't expect us to be that quick. We had a lot of problems in the wet and we hoped for dry conditions. BMW have got a great engine and we changed a lot of things overnight. I'm confident for the race."
Colombian Juan Pablo Montoya said that he was disappointed with his seventh-place grid position and admitted that he had made a costly mistake on his final attempt to improve his position.
"It's been quite a negative weekend for me so far," Montoya said. "I'm very disappointed because on my last fast lap I put a wheel on the grass, which caused me to lose valuable time in the chicane of the last sector.
"The handling of the car was pretty good and I pushed quite hard and improved lap after lap but blew it all on the last run."
---