Saturday April 14th, 2001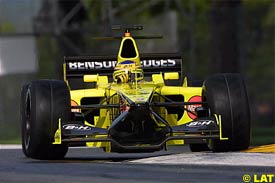 Italian driver Jarno Trulli was delighted after qualifying fifth for the San Marino Grand Prix after an exciting session at the Imola circuit.
The Jordan driver pushed hard in the dying moments of the hour-long session and elevated himself to the third row of the grid, sandwiched between the two Ferraris of Michael Schumacher and Rubens Barrichello.
Trulli, fastest of the Honda runners today, admitted he extracted the best out of his car.
"That was really exciting," said Trulli. "It almost feels as good as getting on the front row as Monaco last year! I really pushed hard and I feel that I did my best with a car which was very competitive. I knew I should be able to do well because, in the morning, I hadn't been pushing hard because the track still wasn't dry, but I knew the car felt good.
"I could see in qualifying that the track was a bit wet in the beginning but it was getting better and better. The thing to do was to wait right until the end. So I just had to keep calm. I went out at the right time, everything went well and, as I said, it was very exciting. So, my starting position is good and, since we have a competitive car, I'm hoping for a good result in the race."
Heinz-Harald Frentzen was not as pleased as his teammate as he made his way to ninth place, the German complaining of a poor balance on his car.
"On my second quick run, I had a really hairy moment with a slower car," Frentzen said. "The car felt really good but then I had massive understeer. We don't know at this stage what caused it but all I can say is that the balance of the car was very different all of a sudden.
"It's a pity because we were making good progress despite not having had the set-up time we wanted for qualifying due to the wet track in the morning. So it goes without saying that I'm disappointed with ninth place. I'll just have to see what I can do from there."
---