Saturday April 14th, 2001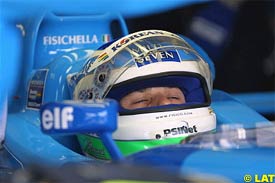 Despite the start of the European season, things didn't improve for the struggling Benetton team, who were once again very far from the top times and ended today's qualifying session for the San Marino Grand Prix in 19th and 21th place.
Italian Giancarlo Fisichella, who scored Benetton's first point this season at the Brazilian Grand Prix two weeks ago, was the Renault-owned outfit's fastest driver today, but he was very unhappy with his performance.
"This does not look good for us and I am very disappointed," admitted Fisichella. "We thought that we could be more competitive but I hope we'll have a reliable race tomorrow to increase our morale.
"Tomorrow we'll focus on finishing the race with both cars. However, it is always good to be back home to race and I hope that we can show some good performances."
His teammate Jenson Button struggled even more, being almost one second behind Fisichella. The young Briton qualified in 21st place, only ahead of Minardi's Tarso Marques.
"Starting from 21st position is not very satisfactory but we need to have patience and look to the future as we are still at a development stage.
"Of course it is difficult as a driver to accept today's situation but I still believe that we'll be much stronger in later races."
---