Saturday April 14th, 2001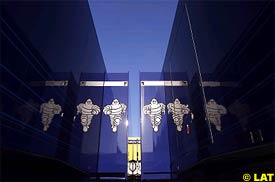 The Williams team were once more Michelin's top runner as the French tyre manufacturer endured another promising performance in Saturday's qualifying session for the San Marino Grand Prix.
German Ralf Schumacher continued to be the fastest of the Michelin users, setting the third fastest times behind the two McLarens of David Coulthard and Mika Hakkinen, something that took Pierre Dupasquier by surprise.
"Previously we have been accustomed to red cars being ahead of us, but today it was the Silver Arrows, so something has changed," said the Michelin boss. "We are committed, however, to being ahead of everybody one day. But that is not going to happen straight away and we have plenty of hard work to do."
The Frenchman admitted the conditions during the morning session were not the best for their tyre compounds, but the track heat up for qualifying, making things easier for Michelin. Dupasquier also said their tyres would be capable of lasting the whole race without being changed.
"A few things took us a little by surprise today," added Dupasquier. "The track has, unusually, been less abrasive than usual and the temperatures have been very low all weekend. When it was only four degrees in the morning, for instance, our tyres weren't suited at all to the conditions.
"But during the qualifying hour the temperature gradually increased and that explains why lap speeds improved right at the end of the session. The tyres we have brought here are certainly a little too hard.
"As far as we are concerned, we are happy that our tyres are very durable and we could easily make do with a single stop. Indeed, we believe our tyres would be capable of lasting the entire race."
Juan Pablo Montoya was the second fastest Michelin user in seventh place, while Jaguar's Eddie Irvine and Luciano Burti were thirteenth and fifteenth respectively, with Prost's Jean Alesi in between the two.
---