Saturday April 14th, 2001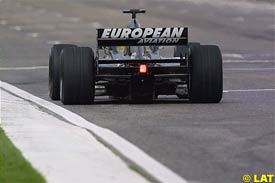 Spanish teenager Fernando Alonso continued to impress on his first season in Formula One as he not only outqualified his more experienced teammate Tarso Marques by nearly 1.5 seconds, but also classified in front of the two Benettons of Giancarlo Fisichella and Jenson Button.
19-year old Alonso, competing in only his fourth Grand Prix, gave his Minardi team something to celebrate as he set the 18th fastest time in the Italian outfit's home race.
"I definitely feel satisfied and pretty happy with today's outcome," said Alonso. "This morning's free practice sessions, which took place on a wet track, did not allow us to work properly on the car's settings. Therefore, for the qualifying session, we went for the chassis settings we had arrived at back at the factory, which are not always the right ones.
"Happily, though, my car was good and behaved well throughout qualifying. I pushed hard over the last runs, driving to the limit, and I believe that to be ahead of both Benettons and one Prost is an encouraging result for the team, which bodes well for the development of our chassis."
Brazilian Marques, however, was not so pleased with his car's performance and all he could manage was the 22nd and final spot on the grid.
Marques said: "My car did not have a good balance and I experienced quite a few problems in trying to find the right set-up.
"Unfortunately, we had chosen to use only three sets of tyres for two runs, which turned out to be the wrong strategy, and on my last attempt, when the track conditions had definitely improved and I should have been able to go for my fastest lap, the front tyre lost a lot of pressure.
"As a result, I was not able to improve my time."
---