Saturday April 14th, 2001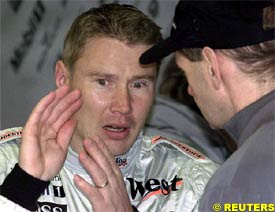 Former world champion Mika Hakkinen is taking strength from the past to cope with his present problems in Formula One.
The Finn driver, champion in 1998 and 1999, has endured a poor start of the season, scoring only one point in the first three races of the year.
However, the McLaren star admitted he is not worried and knows by experience things can change very quickly in Formula One.
"It's been difficult," said the McLaren driver, who lies 25 points behind Ferrari's Michael Schumacher and 19 behind teammate David Coulthard.
"Unfortunately I do have experience from the past when the first Grand Prix don't go so well but I'm not too worried yet," the Finn said on the eve of the San Marino Grand Prix after qualifying on the front row of the grid.
"Many things can happen through the year so I'm not that worried about it."
Hakkinen did not score a point in the first two races of last season and was 24 points adrift of Schumacher after the third race in Brazil.
But by the end of the Belgian Grand Prix in August, he was ahead of the German before Schumacher eventually won the title.
---