Saturday April 14th, 2001
By Timothy Collings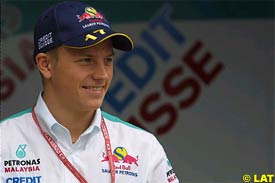 Kimi Raikkonen had every excuse on Saturday to laugh at the doubters who questioned his right to be in Formula One when he signed for the Sauber team at the start of this season.
But, after grabbing 10th place on the grid in his first qualifying session at Imola for Sunday's San Marino Grand Prix, he was more concerned with his own disappointment than enjoying settling any scores.
"A top ten qualifying position is good," he admitted. "But I am not happy really because I know I should have been higher than 10th place today...."
Such confidence and single-mindedness is typical of his approach to the challenge of proving that after only 23 previous car races en route to Formula One he belongs among the elite.
Raikkonen may be shy, his English might not yet be fluent, but he knows what he wants and what he believes is important.
And that concentrated focus on racing is the very quality that has turned many heads at the Autodromo Enzo e Dino Ferrari this weekend and marked him out as a star of the future.
Both Frank Williams, the head of the Williams-BMW team, and Gerhard Berger, the head of BMW motor sport, nominated him as the most impressive new arrival of the season.
"He has been very impressive both here and in the first races of the season," said Berger.
"He is a special talent that you can see straight away, like Jenson Button last year," said Williams.
Only rarely do drivers arrive at a circuit they have never seen before and immediately find the pace and perform so successfully -- yet Raikkonen, 21, has still not passed his F1 driving 'test' and been assured of keeping his superlicence.
"I think I have to drive for three months without making any mistakes, doing anything silly, for them to believe I can drive ok and have a superlicence. They will check it. It is the same for everyone. They are just rules," he said.
Similarly, Raikkonen has not been drawn into any debates over the 'rules' of the Sauber team which banned drivers' girlfriends for the season-opening races in Melbourne and Kuala Lumpur.
"I am not bothered now by those rules, they are not against me," he said. "If I want to bring my girlfriend here now, I can. There are no special things to worry about."
A relaxed Raikkonen was as unconcerned by driving on a track he had never seen as he was in moving into Formula One.
"Now I feel better than at the beginning of the season. I have more confidence. Then I was unsure what it was going to be like in Formula One. Now, I know. There are no surprises I think. I know a little bit now. You always learn something every time you go in the car and you go quicker every time."
He has also recently moved home to Hinwil, in Switzerland, to live near his Sauber team's base. "So, now I don't go home very much any more. I am always too busy," he said.
For the boy who moved so swiftly from contesting and winning the British Renault 2000 Championship last year with Manor Motorsport to Formula One this year, it has been a steep learning curve.
But like everything he faces Raikkonen has gone up so far without seeming to notice the effort involved.
"The toughest thing has been getting used to the G-forces," he said. "Especially in my neck. But the more time I spend in the car the better it becomes. I have also been carrying out a very special exercise programme laid down by our physiotherapist, so I am not worried now."
---