Sunday April 15th, 2001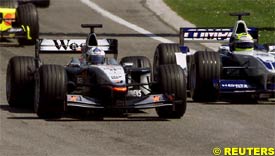 Ralf Schumacher secured victory in the San Marino Grand Prix on Sunday to claim his first win in the championship.
German Schumacher last won a single-seater race in the All Nippon Japanese F3000 Championship in 1996, but the BMW-Williams driver dominated at Imola to win his first Grand Prix.
It was Williams first Grand Prix win since the Luxembourg Grand Prix in 1997 and Schumacher now joins his older brother Michael as a winner. They are the first siblings to win Grands Prix.
Coulthard secured a runners-up finish to move equal on 26 points with Michael Schumacher at the head of the championship standings. Ferrari's Rubens Barrichello claimed a podium finish in third, while two-time champion Mika Hakkinen scored his best finish of the season in fourth.
Jordan driver Jarno Trulli came over the line in fifth place, while German Heinz-Harald Frentzen claimed the final points-scoring spot in sixth in his Jordan.
Italian Trulli moved up into third at the start as Ralf Schumacher stormed clear, with Hakkinen fourth and Michael Schumacher fifth. Italian Giancarlo Fisichella gained four places to 15th.
The younger Schumacher held a 2.2-second lead over Coulthard at the end of the third lap, while his elder brother lost drive and made two mistakes on the next lap and dropped down to eighth as he was passed by Ferrari team-mate Rubens Barrichello.
Spaniard Fernando Alonso became the first retirement after he completed six laps. The Minardi driver carried too much speed through Variente Alfa and slammed into the tyre wall.
Dutchman Jos Verstappen also went out on the next lap with mechanical problems in his Arrows as the leading two drivers moved 15 seconds clear of third-placed Trulli.
Michael Schumacher moved up to seventh as he passed the BAR of Olivier Panis on lap 9. Panis was investigated by race stewards for a jump start but was cleared.
Sauber rookie Kimi Raikkonen spun off the track and lost his steering wheel after he hit the wall with suspected suspension problems on lap 17 while in ninth spot.
Benetton duo Jenson Button and Fisichella both made early pit-stops as their early-season misery continued. The latter coasted round and later retired as the leaders drove on lap 34. Button also made several pit-stops and also drove over the grass as he stuttered at the back of the field. He ended last of the 12 finishers.
Michael Schumacher's miserable race was compounded with a front left puncture on lap 24 as he was left to crawl around to the pits. He returned to the track after a 12-second stop but then came back in on the next lap and was wheeled into the garage as the German made an early exit.
Brother Ralf continued his dominance at the head of the field and set a new lap record on lap 27. Williams team-mate Juan Pablo Montoya completed his first-ever pit-stop in Formula One on the same lap and came out to pass Trulli in another superb manoeuvre.
Argentine Gaston Mazzacane came to a halt in his Prost with an engine fire on lap 30 and he was joined on the sidelines by British American Racing's Jacques Villeneuve, whose engine blew spectacularly in a plume of bellowing smoke on the next lap.
Jaguar's Eddie Irvine parked his car with a smoking engine on lap 43 before leaders Schumacher and Coulthard both came in safely for their second pit-stop of a two-stop strategy on lap 46.
Montoya suffered a disastrous second stop when firstly the fuel nozzle got stuck on his Williams. He then stalled as he attempted to pull away and failed to engage gear as the team mechanics attempted to fire it up.
He left the pits after being stationary for more than a minute but struggled with further problems and was forced to tour into his pit garage on the next lap.
Brazilian Tarso Marques completed 50 laps but was forced out with an engine fire as the Minardi driver was the last retirement of a largely-uneventful race.
Despite a late slump in speed, Schumacher held out to claim his first win of an ever-improving career and marked a memorable start to the season for the BMW-Williams team.
PROVISIONAL RACE RESULTS

The San Marino GP
Imola, Bologna, Italy;
62 laps, 305.609 km;
Weather: dry, sunny.

Classified:

Pos  Driver        Team                     Time        
 1.  R.Schumacher  Williams BMW       (M)   1h 30:44.817
 2.  Coulthard     McLaren Mercedes   (B)   +      4.352
 3.  Barrichello   Ferrari            (B)   +     34.766
 4.  Hakkinen      McLaren Mercedes   (B)   +     36.315
 5.  Trulli        Jordan Honda       (B)   +   1:25.558
 6.  Frentzen      Jordan Honda       (B)   +   1 Lap   
 7.  Heidfeld      Sauber Petronas    (B)   +   1 Lap   
 8.  Panis         BAR Honda          (B)   +   1 Lap   
 9.  Alesi         Prost Acer         (M)   +   1 Lap   
10.  Bernoldi      Arrows Asiatech    (B)   +   2 Laps  
11.  Burti         Jaguar Cosworth    (M)   +   2 Laps  
12.  Button        Benetton Renault   (M)   +   2 Laps  

Fastest Lap: R.Schumacher, 1:25.524, lap 27

Not Classified/Retirements:

Driver        Team                   On Lap
Marques       European Minardi   (M)   50
Montoya       Williams BMW       (M)   48
Irvine        Jaguar Cosworth    (M)   42
Fisichella    Benetton Renault   (M)   29
Villeneuve    BAR Honda          (B)   30
Mazzacane     Prost Acer         (M)   28
M.Schumacher  Ferrari            (B)   24
Raikkonen     Sauber Petronas    (B)   17
Verstappen    Arrows Asiatech    (B)    6
Alonso        European Minardi   (M)    5


World Championship Standing, Round 4:                

Drivers:                    Constructors:             
 1.  M.Schumacher  26        1.  Ferrari             40
 =   Coulthard     26        2.  McLaren             30
 3   Barrichello   14        3.  Williams            12
 4.  R.Schumacher  12        4.  Jordan              10
 5.  Heidfeld       7        5.  Sauber               8
 6.  Frentzen       6        6.  BAR                  3
 7.  Panis          3        7.  Benetton             1
 8.  Trulli         4                                  
 =   Hakkinen       4                                  
10.  Raikkonen      1                                  
 =   Fisichella     1                                  

All timing unofficial

---