Sunday April 15th, 2001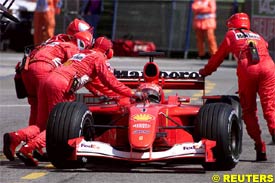 Michael Schumacher voiced his displeasure after he failed to finish his first race since the German Grand Prix last season as he retired from the San Marino event on Sunday.
Schumacher was forced out of the Imola race after 24 laps as his Ferrari car encountered a series of problems.
Schumacher dropped from third on the grid to eighth place after a gearbox problem hindered his early laps, and then a puncture to his front-left tyre on lap 24 forced him to coast into the pits. He dropped out without completing another lap as his car suffered problems with the brakes.
"It wasn't a great weekend," Schumacher said. "The start wasn't perfect and I had a problem with gear selection when two cars went past me. I then suffered the puncture and there was something else that destroyed the wheel rim.
"There was something wrong but I don't know what and the team told me to stop which I was quite happy to do. We had a lot of brake damage as well and it was very disappointing."
Team mate Rubens Barrichello secured a podium spot in third but the Brazilian was a distance behind the leading two drivers - Ralf Schumacher and David Coulthard - for most of the race.
Barrichello said: "I had a slow start with too much wheelspin and followed everybody. I waited and hoped to overtake but Imola is difficult to do that. I was losing time and my race was decided in the opening laps.
"There was nothing to be gained in the end by pushing 25 seconds behind David. I was so far back after qualifying it was difficult to do anything."
---