Sunday April 15th, 2001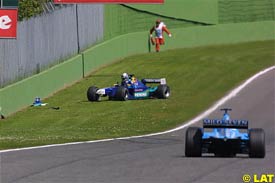 The Sauber team were unable to continue with the promising performance at the San Marino Grand Prix, where German Nick Heidfeld finished just outside the points in seventh position and teammate Kimi Raikkonen retired with a mechanical problem.
After finishing in third place two weeks ago at the Brazilian Grand Prix, Heidfeld could not repeat his feat and had to settle for seventh after being outpaced by Raikkonen during most of the weekend, including Sunday's race. The German admitted he wasn't comfortable with his car.
"I didn't make a great start because the bite point of the clutch was varying and I got too much wheelspin as a result," said Heidfeld. "I was able to repass Irvine for 12th place on the second lap, and after that I was in the group being held up by Panis.
"In the first part of the race I was slightly quicker than Frentzen, but I lost a bit of ground when Irvine came out ahead of me after his pit stop and I had to pass him again. My car was better today than it was for qualifying, but the set-up was still not quite optimal."
Raikkonen, whose four-race provisional superlicense expired in San Marino, completed an impressive Grand Prix until the steering wheel of his car broke loose, forcing him to crash into the wall when he was putting pressure on BAR's Olivier Panis.
"I don't know what happened when my steering wheel came loose as I went up the hill from Tosa on the 18th lap," Raikkonen said. "As far as I'm concerned I put it on correctly just as I always have when I got into the car again on the grid; the next I knew it was loose in my hands and the car just suddenly turned sharp left and nosed into the wall.
"It's a great shame because it was running very well and I was very comfortable following the two Ferraris and Panis and was planning my overtaking move on the BAR when things went wrong."
---