Sunday April 15th, 2001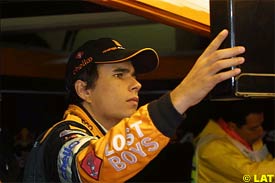 Brazilian Enrique Bernoldi was happy after finishing his first Formula One Grand Prix at Imola on Sunday, after a slow start of his debut season with the Arrows team.
Bernoldi hadn't been able to complete more than fifteen laps in the first three rounds of the champhionship, and despite finishing out of the points in tenth place, the rookie driver was content with the result at the San Marino Grand Prix.
"Well I'm pretty happy that I've finished my first race," admitted Bernoldui. "Everything went well, no problems with the car, the pit-stops or the start. My start was okay but I was pushed out by Burti on the first lap which made me lose position but that's all part of racing.
"I enjoyed the race and still had energy in reserve at the end. I learnt a lot out there today so overall it is a a positive result for myself and the team."
Meanwhile, his team mate Jos Verstappen could only complete six laps after a mechanical failure put an end to a dissapointing weekend, when the Dutchman was even outqualifed by Bernoldi for the first time this season.
"I had a failure with my exhaust and once that happens all the underbody temperatures start going up, the hydraulics, the electrics and everything else heats up until the car stops," said Verstappen. "The car was running really well until then, the best it has been so far this weekend. I think this is a weekend I will quickly forget.
"I've had a lot of small problems and also some bad luck so I'll just draw a line under this and look forward to the Barcelona race in two weeks time."
---