Sunday April 15th, 2001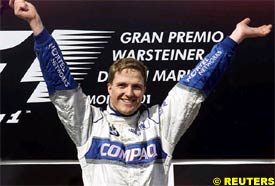 Ralf Schumacher has the taste for success after his first Grand Prix win in San Marino on Sunday and he has warned the rest of the field that he and his BMW-Williams team mean business.
German Schumacher dominated the San Marino Grand Prix, and after taking the chequered flag he vowed to continue his success throughout the remainder of the season, and beyond.
Schumacher said: "It is a great experience and I hope it is the first of many. I've waited long enough for it and we've done a lot of work with Williams and it paid off today.
"One thing is for sure and that is it will be easier in the future. It was a good start and I was lucky that David (Coulthard) and Mika (Hakkinen) missed it slightly. I tried the same as last year and David gave me a bit of space and it all worked out.
"It was perfect and may be the beginning of something. We were very strong in the last three races but had some bad luck. We will work hard now to keep the level up and try to do our best to keep up with McLaren and Ferrari."
Schumacher's victory was the first for German engine suppliers BMW since they teamed up with Williams last season.
BMW motor sport director Gerhard Berger, the last driver to score a win for the German manufacturer in 1986, said: "It's a fantastic day for BMW and it is our first win in 21 races since linking up with Williams. We're so competitive and some of the last couple of years have been difficult.
"There have been two teams fighting at the front for a while now and everybody wants a third team to come through. We are close to it now and I hope from now on we can regularly disturb them."
---