Sunday April 15th, 2001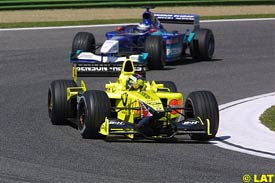 The Jordan Grand Prix team was 'the best of the rest' on Sunday, after Jarno Trulli and Heinz-Harald Frentzen finished in fifth and sixth position respectively, once again beating their Honda-powered rivals at the BAR team.
Trulli, who had qualified in fifth position on Saturday, made a very good start and was able to elevate himself up to third spot. The Italian, however, was unable to keep the leaders' pace, and played an important role in the final result, as the drivers behind him struggled to pass him.
"I made a good start," said Trulli. "I moved into third place and, for the first ten laps, I was probably holding up Hakkinen and Michael Schumacher, but then I was pulling away. Everything was fine until the first pit stop, when I was in big, big trouble with the second set of tyres.
"I was struggling a lot with the handling and when Montoya came up behind me, he was able to brake later than me and accelerate away, so there was nothing I could do. The third set of tyres were okay and I was able to keep pace. For me, two points isn't bad; it's a good result after the disappointment of Brazil.
"I was able to show once more that when I have a good car and everything is working well, I can be right there."
German Frentzen endured an anonymous race that eventually saw him scoring the final point, and he blamed a poor start for not being able to fight for a better position. Frentzen finished a lap behind the leaders.
"I had to take evasive action at the start," explained Frentzen, "but once the race settled down I pushed ahead with our race strategy. The balance of the car was good and everything was running at its optimum but there was no way I could catch up from that far back.
"Certainly, there was no way I could have lived with the Williams had I been at the front! Williams and Ralf Schumacher deserved their win today. Scoring a point for sixth place was some consolation but, to be honest, we need to step up our performance a bit more."
---