Sunday April 15th, 2001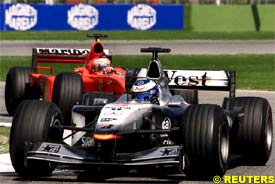 Mika Hakkinen secured his best finish of the season with fourth place in the San Marino Grand Prix but took the time to praise Ralf Schumacher for his maiden win.
McLaren driver Hakkinen, who had one point to his name before the Imola event, paid tribute to Schumacher's performance, especially at the start where he went from third to first place.
"When you make a start like Ralf did the guys behind you have got no chance," said Hakkinen. "He had so much speed and I know what it is like to have speed like that at the start.
"It gives you a lot of confidence. There is no way I could get near him, it was fantastic for him, but at least I scored some points."
Hakkinen finished behind his McLaren team mate David Coulthard, who started from pole position but was left to settle for second place on the podium.
"I moved a little just before the start and stopped, and then the lights changed and there was too much wheelspin and I thought I might get swamped," said Coulthard.
"I sensed Ralf on the inside and I had to move to make enough space for us all and then waited to see how quick he would be in the rest of the race. He was much faster than I was, to my disappointment."
---