Sunday April 15th, 2001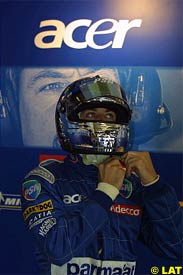 Frenchman driver Jean Alesi continued with the Prost Grand Prix team's consistent performance this season by finishing his fourth consecutive race of the year at Imola on Sunday.
Alesi, who struggled for reliability last season with the Peugeot-powered Prost, has finished all the Grands Prix this season.
However, after his ninth place today, the veteran expects a 'big development' will allow him to fight for better positions soon.
"Today's result is not good enough but we continue to work with the same determination," Alesi said. "A big development for the car is expected very soon and the team has prepared an intensive test programme for next week at Silverstone."
His team mate Gaston Mazzacane was not so lucky and had to retire with a mechanical failure, enduring yet another disappointing day.
"It's obviously not the race I had hoped to have, since I had to retire quite soon, on my 30th lap, due to a mechanical problem," Mazzacane said. "I am sorry because the work the team had done on my car this weekend had given me higher expectations."
---