Sunday April 15th, 2001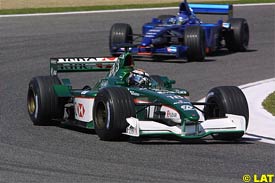 Luciano Burti revealed that he lost three gears on his Jaguar car in the latter stages of Sunday's San Marino Grand Prix as he finished the race 11th on yet another dissapointing day for the Milton Keynes-based outfit.
Brazilian Burti had a better day than his team mate Eddie Irvine, who was forced to retire after the Cosworth engine in his car blew, but the team are still searching for their first points of the season.
"I think we had the best strategy today but I was handicapped by a gearshift problem for the whole race," said Burti.
"I had to drive carefully but once I'd got past Jean Alesi after his second stop I lost first, second and third gears. It was a real shame as the basic balance of the car was good but I lost too much time."
Irvine said: "Once again we have come so close yet remain so far. There is no miracle overnight cure and we will continue to push hard on the development of this car."
---