Sunday April 15th, 2001
By Alan Baldwin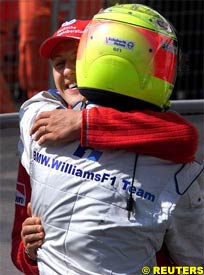 To say that Ralf Schumacher was merely a happy man on Sunday might be Formula One's understatement of the season.
Drenched in champagne, mobbed by reporters and applauded everywhere, the 25-year-old Williams driver joined the winners' circle and savoured his first taste of the success his older brother Michael has enjoyed for years.
Michael may have won 46 Grands Prix and three world championships, but few of his race wins will have come much sweeter than Ralf's start-to-finish triumph at the sun-drenched San Marino Grand Prix staged on the circuit in Ferrari's heartland.
If there was one driver Michael would have wanted to win at Imola, other than himself, it must have been Ralf and he was quick to congratulate his successful sibling.
"He said, 'well done, it was time'," said Ralf. "'You waited long enough'.
"It's a great experience and I hope it's one of many," he added. "I've waited long enough for it."
So too had Williams, whose jubilant staff posed for a team photograph as the celebrations began.
Williams had not won a race since Jacques Villeneuve's last triumph at the Nurburgring in 1997.
Shadow
Ralf had driven impressively but still in his brother's shadow for four seasons before the San Marino race.
He might have won while at Jordan in 1998 but team orders dictated that Briton Damon Hill stayed ahead for a one-two finish at Spa in Belgium for that team's first win.
Sunday's was his 70th race and the only the third time he had started ahead of Michael -- winner of the past two rounds at Imola -- on the second row of the grid.
The win also made history as the first time that brothers had won Formula One Grands Prix.
Michael said: "We have both achieved our goal and our parents will be very proud. As for myself, you can't win all the races."
Ralf seized the lead from pole-setter David Coulthard's McLaren at the first corner, squeezing inside on the edge of the track, and stayed ahead to the flag.
There was no need for the "Keep Your Distance" sign painted on the rear wing of the Williams during Friday's practice following collisions in the past three races.
Ralf simply did not let any rival get close enough to touch his car, let alone pass him.
Lucky
"It was a very good start," he said. "It was just right and I think it was lucky to get David right there and the same was for Mika (Hakkinen).
"It was a pretty long race afterwards, I must say."
In Brazil two weeks ago, Ralf had qualified on the front row for the first time in his career alongside Michael.
But he made a poor start at Interlagos, as some cynics had expected he would, and his race ended shortly afterwards when he was shunted from behind by the Ferrari of Rubens Barrichello.
"He is atoning for his sins," declared team boss Frank Williams with a wry smile when asked about the start.
It was clear from Brazil, when Colombian newcomer Juan Pablo Montoya led for half the race in his Williams, that the BMW-powered cars were back in business as potential race winners.
"It was perfect," Ralf said of the car. "For the first 10 laps I had to be careful and save the brakes a bit but from there on I pushed a bit and then backed off again and it was perfect.
"We've been competitive for the last three races but had a bit of bad luck I must say."
Talking reporters through his race, Ralf admitted that he had started thinking about winning with 40 of the 62 laps to go. The last three laps seemed like an age.
"I was pretty relaxed, it's a great feeling but the pressure is now on as people will expect us to win the next race," he said.
"It is a dream day for us," said BMW Motorsport director Gerhard Berger, who declared that Ralf could be as good as his brother but had yet to acquire a similar bank balance.
"Everything ran according to plan," added Berger who coincidentally took BMW's last win in Formula One as a driver with Benetton at the 1986 Mexican Grand Prix.
---