Sunday April 15th, 2001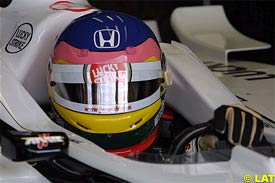 Canadian Jacques Villeneuve endured yet another disappointing race at the San Marino Grand Prix, as he was forced to retire with a mechanical problem when he was set to score his first points of the season for the British American Racing team.
Villeneuve, who had been outqualified by team mate Olivier Panis for the second consecutive time, was running in sixth position when his BAR suffered a mechanical failure. The former world champion was fuming after the race.
"It was a huge disappointment that I could not finish the race today," said Villeneuve. "It was looking as if I was finally going to get some points this year. It has been a very difficult start to the season and yesterday we had a bad qualifying session.
"At the start of the race we worked hard to get up to sixth position and I am not sure if we had a mechanical failure or a gearbox problem. It is very frustrating to end another race without any points."
Team mate Olivier Panis was able to run in the top-six in the early stages of the race but the Frenchman dropped back after making his first pit stop because of gearbox problems. He later changed his steering wheel as a precaution during the stop, which lost him more time, eventually finishing eighth.
Panis said: "I am very disappointed for the team. I made a very good start, probably my best start in Formula One but I developed a few niggling problems fairly early on in the race. The car had a lot of oversteer and it was very difficult to drive.
"In the end I had some problem with the gearbox so I made a pit stop and we changed the steering wheel. I managed to finish the race but we need to continue to work hard because I am sure sometime soon we will achieve a good position and be in the points."
---