Sunday April 15th, 2001
By Alan Baldwin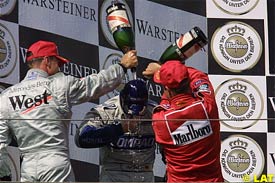 David Coulthard finished second in Sunday's San Marino Grand Prix but nobody beat him in offering congratulations to winner Ralf Schumacher.
The McLaren driver paid his compliments a day early.
"The first one to congratulate me was David yesterday, in advance," revealed Williams driver Ralf who had passed pole-setter Coulthard into the first corner.
Coulthard, sitting alongside Schumacher at a news conference, hastened to clarify the situation.
"I saw Ralf, and I saw Frank (Williams), and I told them I wanted to be first to congratulate them," said the Scot, who made his Formula One debut in a Williams in 1994 after Brazilian Ayrton Senna was killed at Imola.
"Because it's quite clear that they've got a package that is going to win Grands Prix. And when they did there'd be a big rush of people giving all their congratulations.
"I got mine in early, I just didn't think it would be today. I hoped it wouldn't be today," added Coulthard, who triumphed at the last race in Brazil.
Ironically, Ralf's maiden win ended Coulthard's hopes of successive victories for the first time in his career.
Coulthard said that although the race at Imola had been uneventful on the track, compared to the three action-packed rounds before, it had been his toughest of the season because of the inconsistencies of his tyres.
Despite that, the six points from his second place -- his fourth podium finish of the season -- allowed Coulthard to join world champion Michael Schumacher at the top of the overall standings on 26 points.
Ferrari were 10 points clear in the constructors' standings, thanks to Rubens Barrichello's third place.
McLaren boss Ron Dennis, whose cars are powered by Mercedes engines, had no complaints and was also first to congratulate rival team owner Williams, whose FW23 also has a German engine with BMW the provider.
"We hate to lose, but if we have to we prefer that it's to our good friends and competitors at Williams," he said.
"As is obvious from today's result, there will be more drivers winning this season than in the last couple of years."
Ralf's win was the first by a driver from a team other than Ferrari or McLaren since Briton Johnny Herbert won in a Stewart at the Nurburgring in 1999 -- 23 races ago.
---