Sunday April 15th, 2001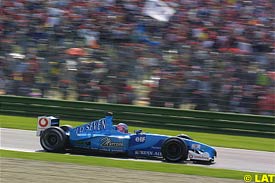 Jenson Button struggled to 12th place at Sunday's San Marino Grand Prix, finding it difficult to cope with the anti-clockwise track, but a double pit-stop early on in the race ruined his chances.
"On his first fuel stop we had a refuelling failure," explained team technical chief Mike Gascoyne. "This meant that he got no fuel and he had to come back in immediately."
Button had taken encouragement from his performance in the early laps, so was disappointed when the incident happened.
"In the first few laps I managed to catch up with some cars but then I had the setback, so it wasn't an amazing start for my race. But I am glad we managed to get the car to the finish."
Team mate Giancarlo Fisichella retired with engine problems.
---