Sunday April 15th, 2001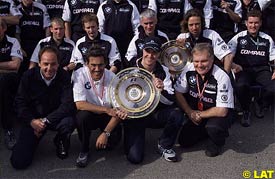 French tyre manufacturer Michelin needed only three Grands Prix before scoring their first Formula One victory in more than seventeen years at Sunday's San Marino Grand Prix.
Michelin, making their Formula One return this season, saw how Ralf Schumacher drove a magnificent race at the wheel of the BMW-Williams to take a dominant win, the 60th Grand Prix victory for the French manufacturer.
The last win had been scored by Alain Prost at the Portuguese Grand Prix in 1984.
Michelin boss Pierre Dupasquier and the whole Michelin team were delighted with the result, though the Frenchman admitted it was not a big surprise following the performance of the Williams team in the first three races of the season.
"Everyone at Michelin is overjoyed by today's result," said Dupasquier. "It is a great reward for all the hard work the whole team has put in during the past few months. We took a bold decision to return to Formula One and we're happy to have proved that our confidence was not misplaced.
"In one way, this victory is not so much of a surprise because we had already seen in Brazil that we had the potential to do the job," he added. "But to win just the fourth race of our comeback is the kind of performance we would have dared imagine just a couple of months ago. We have bonded very strongly with BMW and Williams. The FW23 chassis is a great success with a fabulous engine and we have shown in the opening four races that our tyres are efficient.
Dupasquier, though, knows there's still a lot to learn and said Michelin will put all their efforts to ensure they maintain their winning form in 2001.
"We know there are still many things to learn before we are competitive in every type of track condition. We will be back at work tomorrow to focus on that. I would just like to congratulate Ralf Schumacher for scoring his first Grand Prix win. He drove a faultless race and proved during the final few laps that he was totally in control."
---